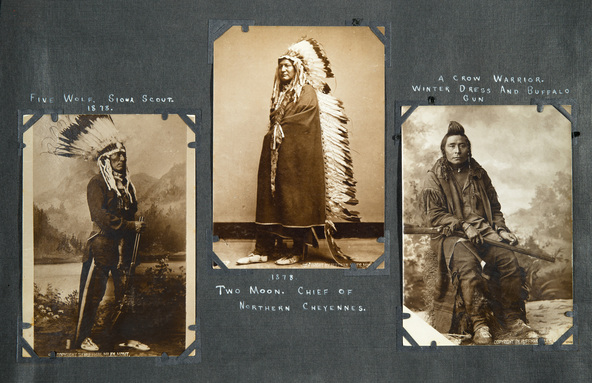 According to Larry Len Peterson, author of L. A. Huffman: Photographer of the American West, "Huffman was born on October 31, 1854 on the family farm near Castalia, Iowa. In the spring of 1878 he moved to Moorhead Minnesota to apprentice with Frank Jay Haynes, who was later known as the official photographer of Yellowstone National Park. Huffman was hired in 1879 as the photographer at Fort Keogh, near Miles City, Montana. Over the years his photographs caught the eye of several famous artists including Charles M. Russell, Frederic Remington and Edward Borein. The photographs were used for reference in some cases and essentially copied in others."

L.A. Huffman wrote, "Fate had it that I should be Post Photographer with the Army engaged here in the Yellowstone - Big Horn Country during the late seventies in the stirring Indian campaigns close following the destruction of Custer's command. The Northern Paific Railway had not yet entered Montana. George had not yet made the Kodak but thanks be, there was the old wet plate, the colloidan bottle and bath. I made photographs. Yes, it was worth while, despite the attendant and ungodly smell surrounding that old process.

"Round about us the army of buffalo hunters - red man and white - were waging the final war of extermination upon the last great herds of American Bison seen upon this continent.

"Then came the cattleman, the 'Trail Boss' with his army of cowboys, and the great cattle roundups. The army of railway builders, that was the fatal coming.… There was no more West after that. It was a dream and a forgetting, a chapter forever closed.

"But this is not to be Recollections of a Country Photographer. That will be printed elsewhere, but this is to tell you that I preserved many of the negatives made in those times. I have them here in my workshop and make original prints direct from them. There are 101 prints in the large collection and 40 in the small one, each complete and comprehensive. They are in a class by themselves - they tell their own story. You ought to see them. Here are the condensed lists of titles and prices of the ten series separately or collectively, and these two collection of 141 prints are the cream of a thousand plates."

This collection of 141 prints by Huffman represents the only known complete collection of his Series A, C, D, E, F, G & H (101 prints) and Series B, K, & M (40 prints) in a vintage album [9.5" x 15.5" x 1.5"]. It is the rarest and most important Huffman album ever assembled. The album cover is a rich, dark brown leather, and the pages are composed of thick black paper on which the prints are loosely mounted—not glued. Printed descriptions are in white ink.

Series A, C, D, E, F , G & H originally sold for $20 for the set while Series B, K, & M sold for $6.50. All the Series in this album were printed on silver colloidan printing-out paper and date to around 1905. They are contact prints that were produced by placing a glass negative on top of the paper in a printing frame—which held them together—and then placed in the sun for development. Prints of the same image varied in brightness due to length of exposure to the sun. This album contains outstanding examples. Printing-out paper was soon replaced by modern developing-out paper that was developed in a dark room with chemicals. Following is the Series breakdown:

Series – Number in Series – Size in inches
A) Huffman's Round Up Views – 30 – 6 x 8
B) Huffman's Round Up Views – 20 – 3½ x 3½
C) Sheep Pictures – 10 – 6 x 8
D) Some Old Time Hunting Scenes – 8 – 3½ x 3½
E) Huffman's [Buffalo] Hunting Scenes – 8 – 3½ x 3½
F) Custer Battlefield – 6 – 3½ x 3½
G) Huffman's Indian Cabinets – 26 – 3½ x 5
H) Huffman's Indian Views – 13 – 6 x 8
K) Huffman's Typical Montana – 8 – 6 x 8
M) Huffman's Indian Cabinets – 12 – 3½ x 5

L.A. Huffman advised clients: "pictures tell a story that, as time goes on, grows more interesting." No work of art tells a more interesting story of the Old West than this unique offering.