The following is the work of John Fery from the collection of William P. Healey featured in the 2019 Coeur d'Alene Art Auction
Click here to view the complete catalog of works featured in our 2019 sale to be held July 27 at the Grand Sierra Resort in Reno
• • •
The Collection of William P. Healey
Bill Healey is one of the consummate western art collectors of our generation. Over the years, he has amassed an impressive collection of John Fery paintings, and it is very exciting to see many of his finest ones come to auction. Why John Fery? Because Bill loves the northern Rocky Mountains, and no artist captured its grandeur better. With its jagged mountains, pristine forests, and alpine lakes, this region has always been irresistible to Americans. The Great Northern and Northern Pacific Railway used that fact to draw tourists to Glacier National Park and Yellowstone National Park by employing Fery in clever advertising campaigns.
Early in his career, Bill Healey left his mark on idyllic Santa Barbara, California as a developer of quality properties. Along the way he built a reputation as a philanthropist and art patron. Later, he moved to Jackson Hole, Wyoming to live in the shadow of the majestic Teton Mountains, where he made dreams come true for those seeking fine ranch properties. I first met Bill almost thirty years ago when we served together on the National Advisory Board to the Charles M. Russell Museum in Great Falls, Montana. He has been a friend of mine ever since. He is what Charlie Russell called a straight shooter and a man with the bark on. With a great eye for art, Bill has mentored me in ways seen and unseen and has been an avid supporter of my books on Glacier country. His passion has led to a number of Fery museum exhibitions over the years. Currently, he serves on the Board of Directors at the Thomas Gilcrease Museum in Tulsa, Oklahoma, among others.
Parting with art you love is challenging, but Bill believes it is time for others to enjoy these American treasures. He has answered the call of the mountains. Will you?
Larry Len Peterson, Author 2019
• • •
A copy of the book,
John Fery, Artist of Glacier National Park & The American West
, will accompany each of the lots from The Collection of William P. Healey.
Dr. Larry Len Peterson is a native of Plentywood, Montana and John Fery biographer. His publications include:
John Fery: Artist of Glacier National Park & The American West
;
Philip R. Goodwin: America's Sporting and Wildlife Artist
;
L. A. Huffman: Photographer of The American West
; and
Charles M. Russell: Photographing the Legend, A Biography in Words and Pictures
. Peterson is the recipient of two Western Heritage Awards and the Scriver Bronze.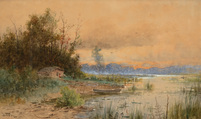 26
John Fery (1859–1934)
Wisconsin Lake
watercolor on paper
13 × 22 inches
Estimate: $3,000-5,000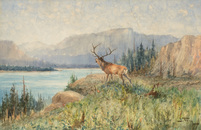 27
John Fery (1859–1934)
Glacier Park
watercolor on paper
15 × 23.5 inches
Estimate: $3,000-5,000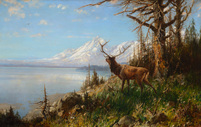 135
John Fery (1859–1934)
Lake Wyoming (1900)
oil on canvas
28.25 × 44.75 inches
Estimate: $15,000-25,000